To Our Family of Members,With the countdown clock fast descending, the JCC Maccabi Games are right around the corner!  For over two years, our community has been actively and passionately planning for this celebration of Milwaukee, Jewish life, and our shared values. Over the course of the week, thousands will call our community home, and in competition and social service we will collectively set a course for sustainable growth. Though we anticipate a significant increase in visitors and traffic at the JCC beginning August 2nd, we are working diligently to ensure that JCC members continue to gain full value from their membership.Below is an overview of scheduled activities and schedule modifications being developed to provide the safest, most efficient, and collaborative JCC Maccabi Games experience.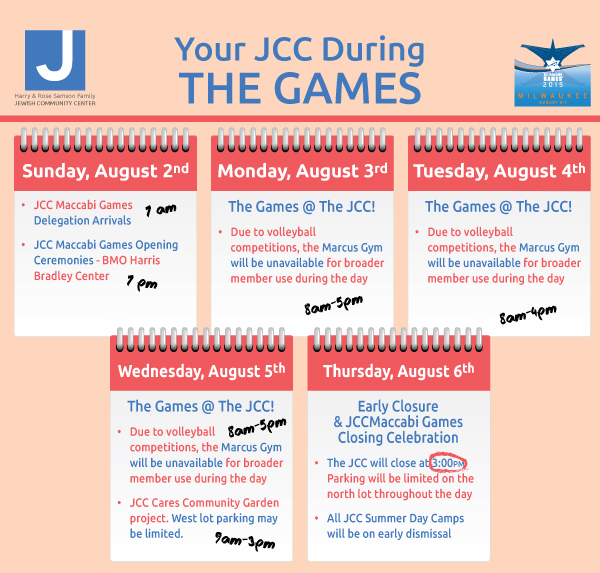 Sunday, August 2nd JCC Maccabi Games Opening Ceremonies – BMO Harris Bradley Center
All JCC members and guests are invited to join us for this free celebration. With live music, a parade of delegations, and special appearances from community leaders – it will be an evening to remember!
Credentialed participants, spectators, volunteers, hosts, and supporters will be allowed entry. If you would like to attend the Opening Ceremonies as a guest (and are not credentialed) you may obtain a FREE ticket at milwaukeemaccabi.org, or at the JCC member service desks.
Monday, August 3rd – Wednesday, August 5th
JCC Members are encouraged to access the JCC primarily at the South and West entrances.  You will need to show your keyfob or credential to access the JCC campus the week of the Games. Special parking passes will be provided to program users to allow efficient access.
The Marcus Gym, which will be unavailable for broader member use during the day (with limited availability each evening.)  Click here for class locations changes August 3-6.
Early Closure and Celebration
The JCC is excited to host the JCC Maccabi Games Closing Celebration on our home campus! To accomplish this, the JCC will close at 3:00pm on Thursday, August 6th. Parking will be limited in the north lot throughout the day.
A successful JCC Maccabi Games is the direct result of an entire community coming together in shared vision: to affirm the JCC's place as a destination for wellness, education, and community services. We are awed by the support of our members, partners, sponsors, and community leaders – and are excited to welcome you all to "Get In the Games!"
For more information on the JCC Maccabi Games, please visit: Web: milwaukeemaccabi.org, Facebook:  MilwaukeeMaccabi,  Twitter: @MKEJCCMaccabi15 (#MkeMaccabi) and download the Games mobile app (click here for instructions)
Thank you again for your continued support, and for everything this incredible community has done to make the 2015 JCC Maccabi Games a Milwaukee experience that will never be forgotten!