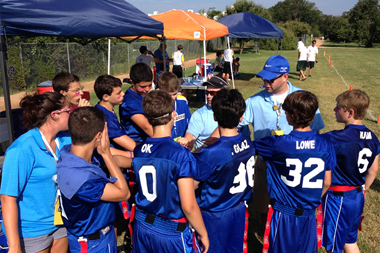 The JCC Maccabi Games® is the largest Jewish youth event in the world. From August 2-7, 2015, our community welcomed over 1,000 visiting Jewish teens from across the globe and involved all of Greater Milwaukee, including 300 host families, over 1,000 volunteers and 125 local teen athletes.
JCC Maccabi Games® kicked off in 1982 with a big mission. It was designed in order to: provide Jewish youth with a supportive environment that fosters mutual respect and sportsmanship, where they can interact in an atmosphere of fun, democracy, and peace; cultivate a deeper understanding and instill an appreciation of Jewish values within Jewish youth, enrich their Jewish identity in an informal setting, and encourage their identification with the state of Israel; promote and encourage the health, physical fitness and well-being of Jewish youth through participation in recreational and athletic activities; and introduce Jewish youth to the international Maccabi Movement, which presents athletic, cultural, and social opportunities with Jews from around the world.
A five day athletic competition and community event, the JCC Maccabi Games opened at the BMO Harris Bradley Center on Sunday, August 2nd. Over the course of the week, athletes from around the world competed in sports ranging from soccer to tennis to swimming and more. Along the way, they experienced Rachmanus (compassion) during the competition, Tikkun Olam (Repair the World) during the community action projects known as "JCC Cares", and Amiut Yehudit (Jewish Peoplehood) during unique experiences that strengthen their connection to each other, their communities, and Israel.
Milwaukee last proudly hosted the Games in 1997 – but the opportunity to create a lasting community experience has never been greater. Together, we buildt an experience that transcends the Games – one that strengthened our entire Jewish community, empowered our next generation of leaders, and celebrated our values and traditions.
Whether an athlete, a host, a volunteer, or a donor –
we thank you for GETTING IN THE GAMES!
Get all of your JCC Maccabi Games information on our mobile app.
Opening Ceremonies doors open at 5:30 PM. Click here for more information.
JCC Maccabi Games | Week at a Glance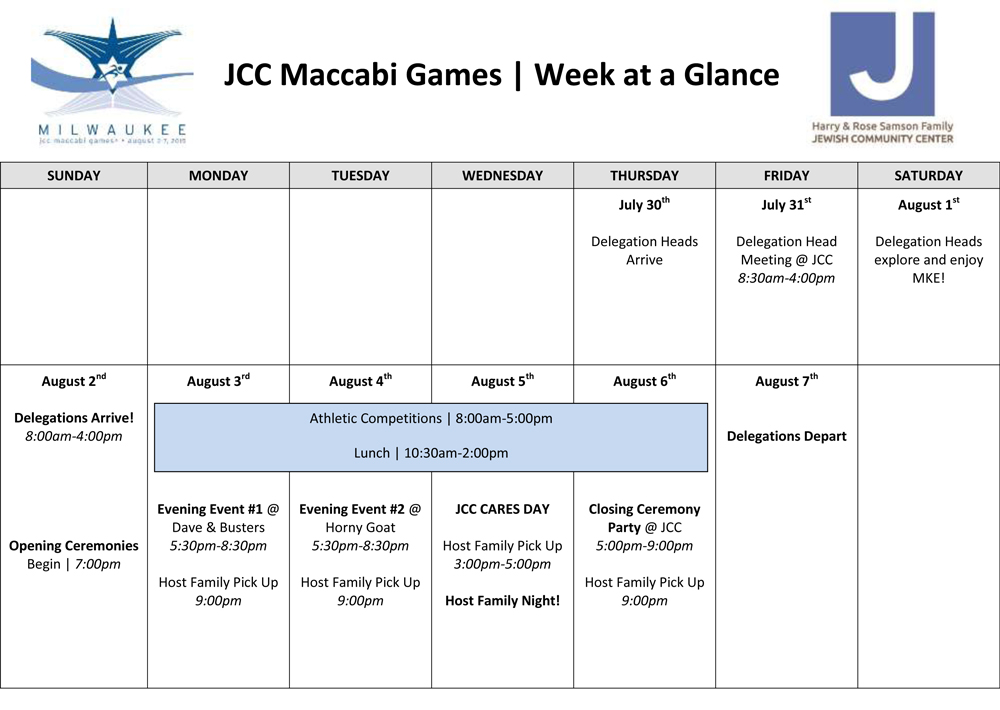 Midot Values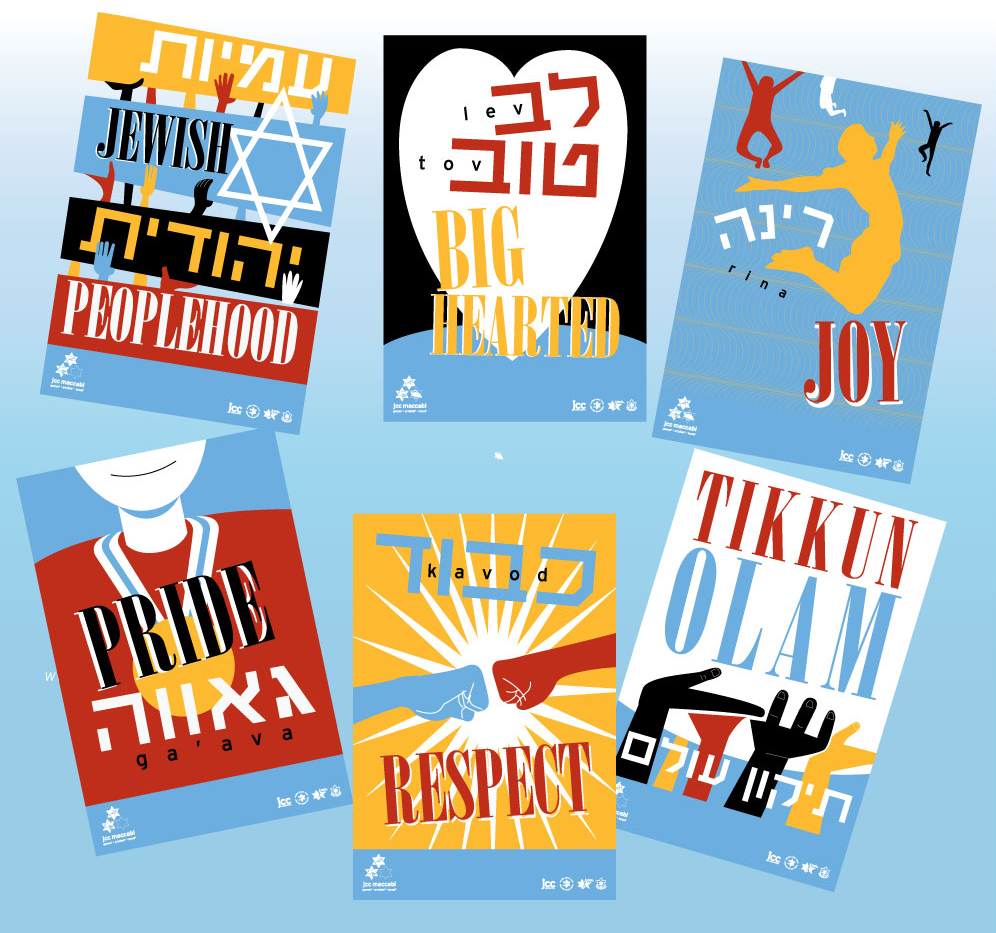 JCC Cares
Since its introduction in 1997, JCC Cares remains the differentiation between the JCC Maccabi Games and any other sporting event. The JCC Cares program is an opportunity for participants to take a few hours out of their schedules to participate in a hands-on community service project.
We have ambitiously chosen four JCC Cares projects that will create lasting memories for our athletes, build upon our strong partnerships and make long term impacts on the participants and the entire Milwaukee community. In every case, our goal is to provide a meaningful experience for our teen athletes enabling them to see that they can make a difference and to volunteer in their own communities.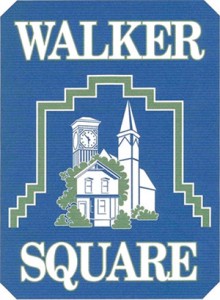 One of the JCC Cares projects is the Walker's Square Park Outdoor Exercise Build. We will continue growing our already strong collaboration with the United Community Center, a comprehensive social service agency serving the families of Milwaukee's Hispanic south side, to construct outdoor exercise equipment in Milwaukee's Walker Square Park. The addition of this equipment to the area will have long lasting effects as it addresses the issues of childhood and adult obesity, behavior problems and fragmented communities.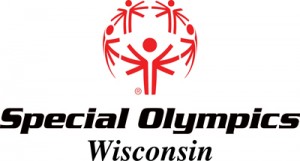 Special Olympics Unified Relays. Based on our partnership with the Special Olympics of Wisconsin, we will welcome Special Olympians to participate alongside their JCC Maccabi peers in unified relays during a track and field event. This event breaks down barriers and allows all of the athletes to bond in a unique environment. After competing, athletes will engage in "crazy races," conversation and activities over lunch.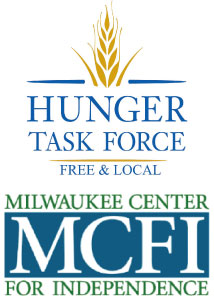 Food Pack. In partnership with Hunger Task Force and the Milwaukee Center for Independence, a community resource for children, teens, adults and older adults with special needs and their families, athletes will participate in a food packing project to help combat hunger in Milwaukee. This project will help feed 20,000-25,000 Milwaukee Public School children who do not have access to meals.

Community Garden Build. The JCC Community Garden will be enhanced and improved during JCC Cares to increase the amount of produce harvested. Hunger exists in every community of our country. All produce from the garden goes to our Jewish Community Pantry located in the inner city of Milwaukee where over 10,000 households are served, including Milwaukee's most at-risk families and elderly. Over 40% of those we serve are children. In many cases, the Jewish Community Pantry is their only access to fresh produce. By providing a nutritionally sound diet, we can help families stay healthy and focused on their future.
Patrick Stanley
About